The City of Santa Clarita began operating local bus service on August 5, 1991, assuming responsibility for local transit operations from the County of Los Angeles as Santa Clarita Transit; providing supervision over a contract operator responsible for all transit operating and maintenance related services including: local, commuter, Dial-A-Ride and ASI. Santa Clarita Transit began with 300,000 riders, eight fixed local routes, and 13 vehicles painted in bright red, plum and gray, complete with oak trees blowing in the wind and gray hills rising in the distance.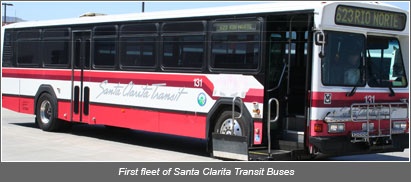 By November 1991, Santa Clarita Transit began operating Dial-A-Ride service then expanded to include commuter service to downtown Los Angeles, UCLA, Century City, Westwood, and the San Fernando Valley in January 1992.The City of Santa Clarita celebrated its 20th year of cityhood in 2007, and re-branded itself as City of Santa Clarita Transit, launching a fresh new look with newly designed buses, bus stop signs, and bus shelters. Transit reflected the City's refreshing color scheme of rich greens and blues and signature tagline: "Where the good life takes you."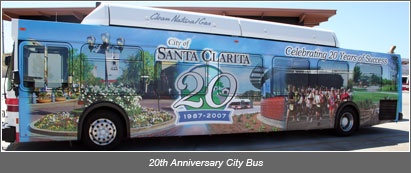 Each year, the Santa Clarita Valley continues to grow as new residents and businesses relocate here. In keeping with this growth, the City of Santa Clarita Transit has expanded its services to include nine local fixed routes within the Santa Clarita Valley; commuter services between Santa Clarita and downtown Los Angeles, Century City, Westwood, Van Nuys, and Warner Center; as well as express bus routes to the San Fernando Valley and Antelope Valley.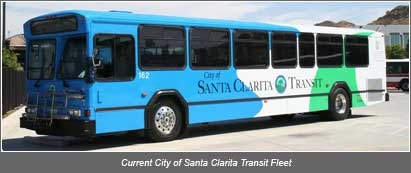 Additionally, City Transit operates paratransit service seven days a week for seniors and disabled within the Santa Clarita Valley, as well as for the general public during evening hours. Our 75 vehicle fleet now provides service to four million riders annually, increasing over 500% in its first 14 years and traveling 12,000 miles each week day.