NoHo Express Route 757
With more frequent Transit service, the NoHo Express takes you just about anywhere you want to go with connection opportunities to neighboring cities available seven days a week.
Santa Clarita Transit Route 757 (Bus) Express route from Santa Clarita to North Hollywood Station
Operates approximately every hour or less, (Weekdays) from 5:10a.m. to 9:46p.m. (Weekends) 6:10a.m. to 9:36p.m. ***Extended Summer Hours on Fri/Sat nights during summer – see below***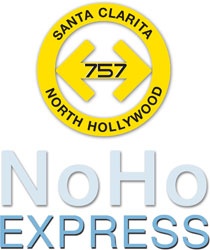 Metro Red Line (Rail) Universal City, Hollywood, Union Station, Downtown LA
Operates approximately every 5 minutes, from 4:31 a.m. to 1:23 a.m..
Burbank Bus (Bus) Pasadena, Hollywood, Los Angeles
Operates approximately every 20 minutes in the morning from 6:00 a.m. to 10:30 a.m. M-F and
2:40 p.m. to 8:00 p.m. M-F in the afternoon.
LADOT Commuter Express 549  (Bus) Pasadena, Glendale, Burbank, Encino, Sherman Oaks
Operates approximately from 6:15 a.m to 8:30 a.m. and 4:00 p.m. to 7:00 p.m. M-F.
Metro Orange Line (High-Capacity Busway)
Encino, Lake Balboa, Reseda, Tarzana, Valley Village,Van Nuys, Warner Center, Woodland Hills, Valley College, & Pierce College
Operates approximately every 4 to 10 minutes, from 3:44 a.m. to 1:32 a.m.

---
Santa Clarita Transit is Extends Summer Service aboard NoHo Express on Friday and Saturday Nights (June through August)
When Santa Clarita residents told us they wanted a way to get to LA's top entertainment destinations, we listened!
This summer, the NoHo Express will "Stay out LAte" on Friday and Saturday nights, with the last trip heading back to Santa Clarita at 12:15 AM.  The service kicks off on Friday, June 6 and will continue through Saturday, August 30.
Now, residents can travel to top LA hotspots like Universal Studios, the Hollywood Bowl, and LA LIVE without the hassle of traffic and parking.
Don't let gridlock or gas prices keep you from experiencing LA's best.  Relax with free WiFi in air-conditioned comfort and style aboard the NoHo Express!
"LA Weekly" Los Angeles Event Calendar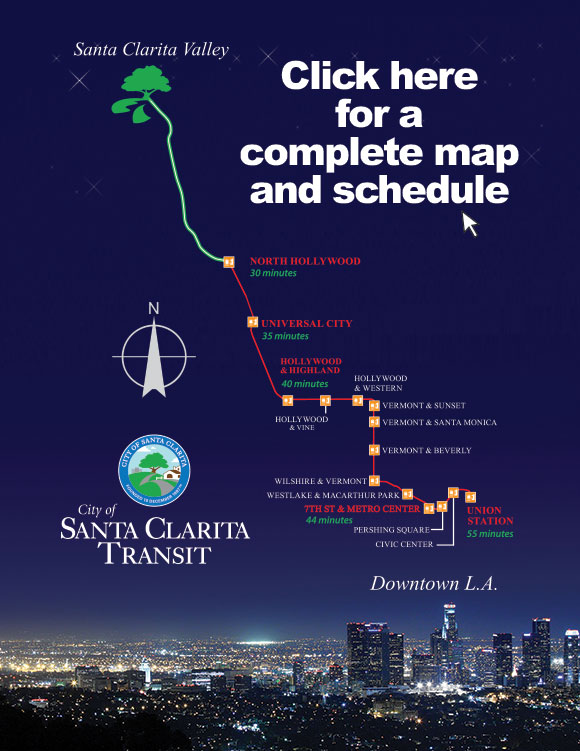 ---
Commuter Express Fare – NoHo Express

Commuter Express Routes 757
Full Cash

$2.50

Reduced Cash

$1.25

Children under 5

FREE

Interagency Transfer

$0.55

Monthly Pass (TAP Only)

EZ Zone 3 Full

$176.00

EZ Zone 3 Reduced

$70.50

SCT only to NoHo Full Fare (Available on TAP only)

$100.00

SCT only to NoHo Reduced Fare (Available on TAP only)

$50.00